At In Touch Telecommunications Inc., we are here to handle every aspect of your communication challenges and needs. We provide your business with all the necessary services and equipment such as phone systems, routers, switches, and more. With our services, you can experience seamless video conferencing, overhead paging, intercom, and background music.
At In Touch Telecommunications Inc., we pride ourselves on our superior customer service. We offer a 2-5 day response for standard service calls, a 24-hour response, and a four-hour emergency window for service requests. We provide complete services for all your business communication needs. All you need to do is ask us!
Business Telephone Systems
In Touch Telecommunications Inc. specializes in service, sales, and installation of Nortel, Avaya PBX, IP Office, VOIP & many others. We have more than 25 years experience with these systems. We are extremely confident with our superior customer service skills when it comes to building your system from the ground up. With our excellent knowledge of the installation and programming of this product, we lessen your communication issues.
Phone systems can provide companies with the proper tools to boost efficiency while lowering expenses. By utilizing phone systems, calls can be transferred with ease, allowing customers with an appropriate service while cutting the cost of multiple single lines. Similarly, individual phones possess customizable features to suit your company needs.
Avaya solutions offer growing business flexibility, mobility, cost-effective scalability, and investment protection. You can experience easy and basic telephony, sophisticated unified communications and contact center capabilities with Avaya.
The devices by Avaya can collaborate effectively with any other device. They can also connect to the associates, customers, and partners, irrespective of the time. See how the right business communications solutions can help you boost both productivity and customer satisfaction.
Nortel telephone systems provide features which are helpful for small, medium-sized and large companies. We carry a full line of Nortel and Meridian systems, telephones and voicemails. You can purchase your equipment over the phone, or we can come to you and verify what you have versus what you need for your business.
Cabling - Voice and Data/Fiber Optics/Coax
At In Touch Telecommunications Inc., we pride ourselves in keeping our technicians up to date with the most current specifications and technologies in the cabling infrastructure. Our team will assist your company with three crucial works.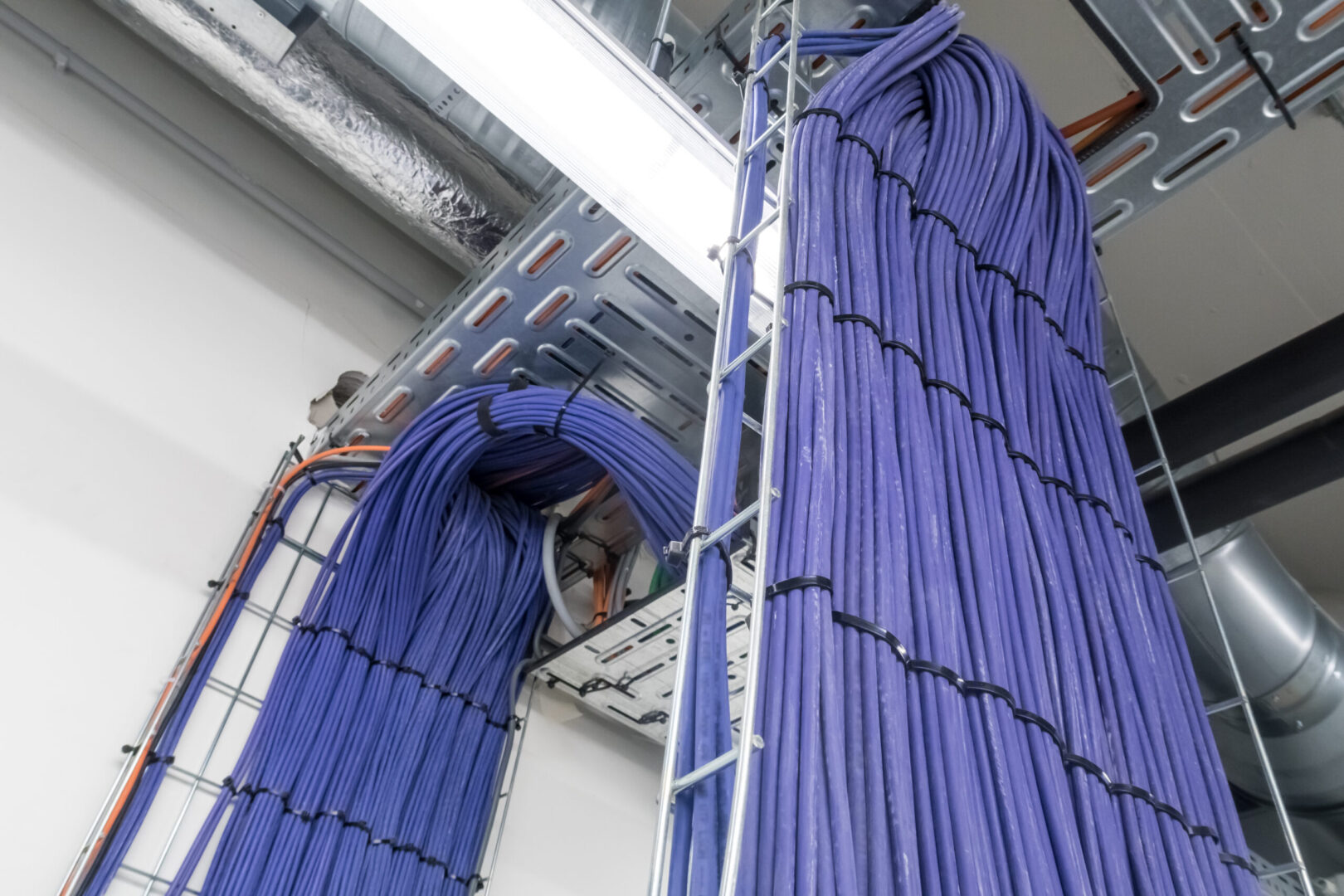 We install copper, coax, and fiber throughout all commercial and industrial buildings. No cabling project is too small. The choice of network cabling is one of the most important ones during your enterprise network installation. Different forms of cabling have different capabilities and are best suited to specific tasks. While it is possible to combine several types of cabling to provide targeted benefits throughout your network, it is typically a good idea to use your cabling with a single brand of network interface hardware. This makes it easier to maintain and update your network as your needs evolve.
At In Touch Telecommunications Inc., we pride ourselves in keeping our technicians up to date with the most current specifications and technologies in the cabling infrastructure. Our BICSI trained and certified cable technicians have an average of 10 years of field experience, which insures a timely. Professional, on budget cabling project.
Your Telecommunications and network cabling needs.
The conveyance media you choose for your structured cabling implementation is determined by many factors. The most important of which are your current bandwidth needs, your future bandwidth needs, and your budget.
One of the most common questions we get when it comes to structured cabling types, is what's the difference between Cat5e, Cat6, and Cat6a cabling? While all three use the same RJ-45 connector ultimately plugging into the same type of Ethernet jack, each option has very different specifications.
Perhaps, the biggest difference between the 3 types is the price. Cat5e is going to be less expensive than Cat6 and Cat 6 is going to be less expensive than Cat6a. You are paying more with Cat6a because of the higher speeds and functionality.
Which type of cable you choose depends on your individual network's current and future needs. See our breakdown of each type to determine what Ethernet cable is best for your infrastructure.
Cat 5e cabling:
Category 5e high-speed cabling is an enhanced version of legacy category 5 cables but has still been around for over 15 years, making it the most dated. These cables provide Gigabit Ethernet up to 328 feet and are typically made up of 24-gauge wire pairs. When they first appeared on the scene, Cat5e cables were the first to deliver 1 Gigabit network speed, which is now the bare minimum you should consider in our opinion. Cat 5e is measured and rated at 100MHz. Essentially, if you are basing most of your network in the cloud than Cat5e might be just fine... for now
Cat 6 cables have been the standard in cabling for a while now for high-speed gigabit Ethernet networks. They support the high speeds required by the 10G Ethernet standard. However, that support is limited to approximately 164 ft, after that the ultimate speed is the same as Cat5e. The frequency in the Cat6 cables jumps up to 250 MHz making it far superior to the 100 MHz in the Cat5e.
Aside from the increased speed, Cat6 cables have a tighter twist in the cables allowing for two-way communication. The higher standard support has also been known to eliminate some or all crosstalk with other cables.
This is the most recent and one of the most advanced of the Ethernet Cables, which provides the same 10Gbps speed but for a total of 330 feet. Cat 6A cables are an improvement to first generation Category 6 cables, the "A" standing for augmented. These cables deliver lightning fast speeds making them suitable for 10G networks and high bandwidth needs. They also have double the amount of frequency of Cat 6A to a total of up to 500 MHz. 
Shielded Twisted Pair (STP) cables have an extra layer of protection that will help to reduce cross talk and other interference. Typically, the twisted cables have a layer of foil surrounding them inside the PVC jacket. Unshielded Twisted Pair is exactly what you would think, unshielded cables. The twisted pairs do not have anything between them, and the PVC jacket as shown. Since STP cables are thicker they do not offer the same flexibility that UTP cables do. If you need a more flexible cable and will not have too many cables near one another than UTP would be best. If you think that your cabling will be affected by high interference or you want them to be run inside walls or outdoors than STP will be the right choice. 
This is a cable made up of super-thin filaments of glass or other transparent materials that can carry beams of light. A fiber-optic cable is light-based, and data can be sent through it, at the speed of light. Using a laser transmitter that encodes frequency signals into pulses of light, ones and zeros are sent through the cable. The receiving end of the transmission translates the light signals back into data, which can be read by a computer. Fiber-optics are based entirely on beams of light. They are less susceptible to noise and interference than other data-transfer mediums such as copper wires or telephone lines.
Fibers We Use
Single-Mode Fiber
Single-mode fibers have a narrower core and allow one data stream or mode, to be transmitted over very long distances. Single-mode fiber carries far more bandwidth, but in a narrower spectral width, than multi-mode fiber.
Multi-Mode Fiber
Multi-Mode fiber strands use a much thicker core than the single mode. Multi-mode fiber can carry data encoded using multiple light sources, thus allowing for various data streams to travel over a single optical fiber. The downside of multi-mode is transmission distance and available data bandwidth. Multi-mode transmission is good over shorter distances and cannot support the high bandwidth of single-mode fibers.
Coax Cabling
Coax cable can support much higher bandwidths than Unshielded Twisted Pair (UTP) cable. The most efficient transfer of energy, over coax, occurs when all parts of the system have the same impedance. For example, a transmitter, interconnecting cable, and receiver should all have matching impedance.
This need for impedance matching is especially critical at higher frequencies, where the consequences of mismatches are severe. Even though coax makes up a small percentage of our total installations, it is a critical piece of the infrastructure puzzle, for our customers. Coax has been the medium of choice for high fidelity audio television satellite and broadband communications
Fiber SM vs MM:
What is the difference between SM and MM fiber?
Single mode means the fiber enables one type of light mode to be propagated at a time. While multimode means the fiber can propagate multiple modes. The differences between single mode and multimode fiber mainly lies in fiber core diameter, wavelength & light source, bandwidth, color sheath, distance and cost.
Single Mode vs Multimode Fiber Distance
It is known that single mode fiber is suitable for long-distance applications, while multimode optical fiber is designed for short-distance runs. Then when it comes to single mode vs multimode fiber distance, what is the quantifiable differences?
In Touch Telecommunications Inc. provide your business with all the audio and video resources you need for monitoring, music, white noise, video presentations, audio or video meetings, and so much more.
A digital system is employed to capture and store the images from one to sixteen cameras. Additional storage systems can be linked to allow additional cameras to be connected. A hard drive is a medium in which the images are stored. The system can also be linked to an existing LAN (Local Area Network) or connected via the internet to a remote computer, where live images and stored images can be reviewed (ISDN high-speed connections are recommended to ensure a high video transfer rate).
These units are used to enable the movement of a designated camera remotely, via a PTZ (Pan, Tilt, and Zoom) controller. The PTZ controller unit allows the operator to move the camera up, down, left and right. It also controls the zoom functions of the camera. The PTZ controller can also be controlled via the mouse on your PC provided the system is connected to your existing LAN.
Cameras come in numerous designs from covert cameras to conventional cameras housed within a wide selection of enclosures to suit the required environment. Monochrome cameras are used for extreme low light applications due to their ability to work in conjunction with infrared illumination.
Color cameras are used for most applications and enable high-quality images to be produced in a variety of light levels. Day and night cameras use the technology from both monochrome and color cameras by using color during the day and switching to monochrome when the light drops below a pre-set level.
If you are in need of fiber internet, VoIP/SIP trunks, dial tone, long-distance, MPLS, data center connectivity, or beyond. At Intouch Tele Communications Inc., we provide you with reliable and affordable services.